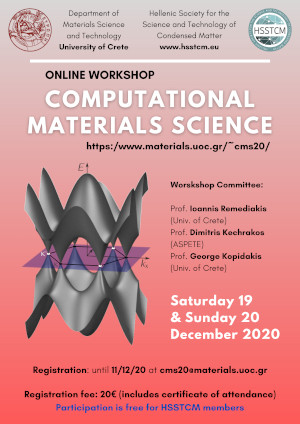 About the workshop
The two-day online training workshop is dedicated to most recent advances in the theory and simualtion of Materials. The speakers are well-known experts in their fields. The workshop is aimed to young researchers in theoretical an computational Materials Science, including senior undergraduate students, graduate students, PhD candidates, postdocs and early-career investigators. The event is co-organized by the
Department of Materials Science and Technology, University of Crete
and the
Hellenic Society for the Science and Technology of Condensed Matter
. We encourage all perspective participants to become members of Hellenic Society for the Science and Technology of Condensed Matter,
HSSTCM
. HSSTCM is a Greek non-profit scientific society founded in 1981 which is member of FEMS (Federation of European Materials Societies). The objectives of HSSTCM is to promote the exchange of new developments and achievements in the field of Condensed Matter and Materials Science, and to support their applications.
Registration
To attend the workshop, please send email with your name and affiliation by Dec. 11th, 2020. to cms20@materials.uoc.gr.
Participation is free for HSSTCM members. The membership fee for HSSTCM is 20 euros (10 euros for students); please visit the HSSTCM page for details. Registration fee for non-members is 20 euros, which must be paid to the Treasurer of HSSTCM before the registration deadline.
Certificate of attendance will be provided to all participants.